I wish I had a sign like this to welcome you to my garden.
I was amazed at all the signs that popped up when I googled it!
As I share the new pics of my small but growing garden
I'll include a few really neat signs.
We had a nice rain shower on Saturday night. I had taken a few
photo's on Thursday. The chrysanthemums were looking good
And last night (Tuesday) they looked like this.
I could see on
Monday morning when I looked out the greenhouse window how
much the whole garden enjoyed that rain shower.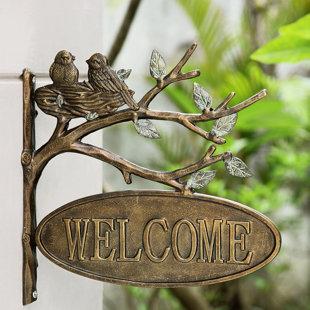 Available
here
Another pretty sign. I really like this one!
You can see in the photo above how much rock there is still in this area! I think it will be a never ending battle!
The Pansy's are still doing well. In the second photo at the very top left you can barely see a few of th
e sprouts that I transplanted.
I am not sure if they will produce any flowers.
These are the seeds I planted. Since this was a trial I did not
want to spend a lot of money. I was not even sure I could get them to sprout. I was hoping to have at least a dozen plants.
I started them in January. If I try again I will start them a lot sooner.
Another sweet garden sign. Found here.
I have some veggies making a showing! I have never ever planted potatoes. I am so happy at least they are sprouting. I am a little
uncertain about this method. But it gave me the opportunity to try.
My planting area is rather large. But it is filled with gravel that
I have had to move by hand. And then hand till the soil before
Kale and Radish are actually looking like little plants. I
have several plantings of radish because they are companion
I have read White Radish will thwart squash bugs. So I have
several rows planted by where the squash will be planted in a few weeks.
One of my favorite things in the garden. I have no idea where I bought it. Possibly at Stein Mart many years ago! He actually is meant to hang on a wall. But I think he is the perfect stepping stone. Only we don't walk on him. He is just on the inside edge
of the garden by the Rosemary.
Another special little visitor guarding the sweet peas. The peas
One more sweet sign. I couldn't find a link for it.
I have been planning on using a watering method that I saw on
Pinterest. I didn't read the instructions. Basically you put a
soda bottle in the ground to water your tomatoes.
So I filled a Dr. Pepper bottle with water and froze it so I could
Last night I decided to get a helper to punch the holes. I had no idea how much fun he would have! These photo's are unedited
and not set up. My kitchen is a mess we had just finished dinner
and the dishes are in the sink and well. It looks awful but he
is super cute so maybe you won't mind the mess.
I love working in my garden and planting. But it's super fun
seeing him have a good time with something as simple as frozen
water, a hammer and a nail.
I hope you have a Fabulous Day!
Linking with the Fabulous Party