Welcome back to another day touring my hometown of
Fort Worth, Texas. In my last post (If you missed it Click here)
I began with one of our family
favorites the Fort Worth Stock Yards. There is really alot to do
in and around Fort Worth. I hope you plan to visit here for the next few days to see some cool places that might be new for you.
We began our tour just North of downtown at the Stockyards
and then moved to the Cultural district to West and just on the edge of downtown. Today we are going back North only a few blocks from the Stockyards.
3300 Ross Ave
Fort Worth, TX 76106
(855) 733-8627
Museum Hours
Wednesday: 9AM-4PM
Saturday: 9AM-5PM
Sunday: 11AM-5PM
Admission Fees
Adults: $5.00
Youth 6-16: $1.00
Under 6: Free
Families: $10.00
Active Duty Military & Family: Free
The next stop is the Vintage Flying Museum. It is only a few blocks from our last stop.
Located at 505 NW. 38th Street
The mission of the Fort Worth Aviation Museum (FWAM) is, "Giving Wings to Youth and Community through our Aviation Roots."
We are dedicated to our core values of PRESERVATION, INSPIRATION, and EDUCATION.
Our VISION
To celebrate and showcase the people and aviation accomplishments of North Texas, in a museum and science center that can preserve and display our heritage, educate our community, and inspire our young people to stay in school and achieve their full potential.
Learn more at the museums website. Click here.
Next I'll share a few of our favorite places to eat in the area.
You might want to have breakfast before touring the museums or stop for lunch after.
Everytime our son and his family come home from Missouri we have to have a big 'ole family dinner at Esperanza's.
This is the exact table we all gathered around on their last visit.
The food is great Tex-Mex. I have a few favorites. Everyone has thier own Fav's.
I always have a hard time deciding what to eat. If your a little
cautious in trying Tex-Mex you might try the nacho's they are probably the best around. I always want them but there are so many other great dishes it's hard to decide.
These are the steak fajita nachos. I always get just plain been and
cheese. So yummy! The soups are delicious too and authentic!
I've tried to duplicate. Just not in the works I need to be adopted.
Esperanza's and Joe T. Garcia's are family owned. The locals
refer to the later as just Joe T's. Joe's T's is only opened for
dinner and is very famous.
Esperanza's is located on Main St. and Joe T's is around the corner on a side street. Both are excellent choices for a great meal.
Click here to visit the website for directions, see the menu's and see more photo's.
Joe T's is a must. Everyone should have at least one meal. It's a
festive and fun experience. For locals it's kind a place for a special meal or party. Joe T's provides a wonderful autmosphere.
But we locals do have our favorites. And sometimes argue about which is best. I'll leave it to say they are all 'The Best'.
My Cowboy and our son vote for Esperanza's. My vote is for
another resturant just down the street.
I grew up going to
El Rancho Grande it's a family favorite.
It began as a place to buy Tamale's. My parents would drive to
'town' on the weekend to pay the electric and gas bill. We would
stop at El Rancho Grande and buy tamales and eat them in the car on the drive. We also drank a Dr. Pepper. Lot's or memories have been shared at this place. And it has great food!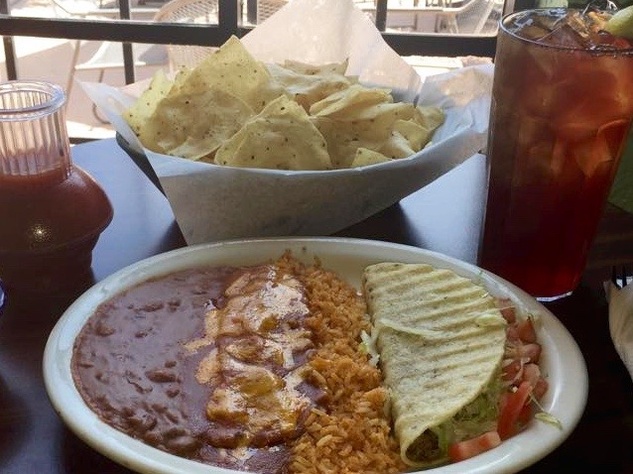 Oh those chips and taco shells. They are thin and crispy and you can only find them like this at El Rancho Grande!
I would be remiss if I didn't share one more local favorite. I have friends that love this place. I've been there maybe once or twice.
You know how it is when you have your favorites?
Step inside The Gardens at Los Vaqueros to find sun-drenched fruit trees, flowers and fragrant Magnolia trees. Underneath twinkling lights, discover whimsical antiques and winding pathways that were hand-laid using bricks gathered from walks throughout the Historic Fort Worth Stockyards.
Painstakingly restored by the Cisneros family, The Gardens at Los Vaqueros offer a lush garden landscape for dining and private events for up to 300 guests in a memorable setting. Small private events may be arranged for luncheons and dinners ranging from rehearsal dinners and bridal showers to birthday parties and gender reveal celebrations.
The Gardens are open daily for lunch and dinner, featuring live music Wednesday evenings from 7pm to 9pm.
Click here to visit the website.
I hope you've enjoyed the tour today. The next post I'll be sharing


some of the historic homes in Fort Worth and a few surrounding areas. And, some other great places to eat!


I hope you'll come back for the tour!