This post is quickly becoming my favorite post to write.
It's actually kind of crazy because I don't really have a lot to share this week about our actual Sunday Supper.
I think I just like the concept of writing about and reminiscing about our family suppers at home.
Today I am going to share with you about a mainstay in our home.
My go to cookbook. Good ole Betty Crocker has served me well.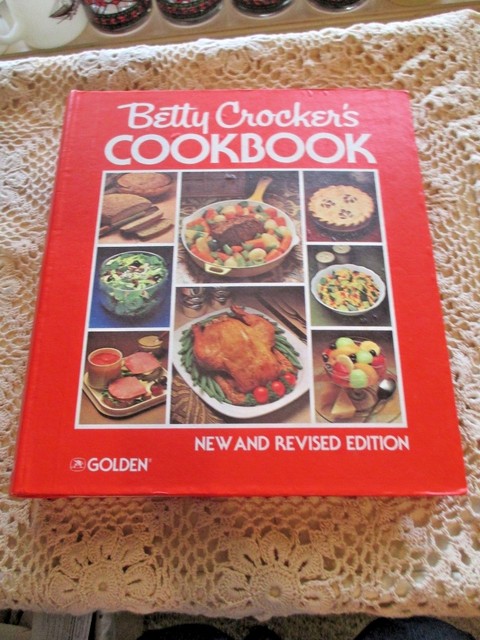 On a side note this copy is for sale on Ebay for 40.00.
I had to use this photo because I no longer have my copy. I
gifted it to my daughter for Christmas.
She has been talking about it for a few years and I've thought about buying her one.
But I realized this past fall that it is about 'my' Our family cookbook as much as it is about Betty.
I didn't really think about it when I started but way back in the day I made notes about the recipes we tried.
Many of them became family favorites. I have to smile as I write this. Because many of them were not keepers. When I prepared the book for gifting to our daughter I went back through and made note of a few recipes that didn't work.
One was Betty's recipe for meatloaf. As I am writing I am remembering now what we had for dinner last Thursday.
I wrote in my Happy Homemaker post about the meals I planned and served last week. On Thursday the Cowboy decided to
make meatloaf while I was at work.
This was a 1st ( and deserves a whole other post). He used a
Betty Crockers recipe that he found on the internet.
I was so grateful he made the meatloaf. It was a long day.
So I grabbed a box of Mac/Cheese from Aldi (much cheaper than the blue box). Opened a can of Black Eyed Peas, buttered some
bread and called it Dinner.
It was a great meal. Especially since I had to do very little to get it on the table.
He was all proud of himself. And so was I. I thanked him and told him he had done a wonderful job! YaDaYaDa.
The next day he admitted he didn't like it. Hello open door!
Betty's wasn't a keeper. We just didn't like her recipe. Even all these years latter.
It was indeed a humorous moment!
Sunday Supper
It's All About Supper