Welcome. I hope your weekend has been Blessed.
Today I am starting a new Sunday feature.
My Gardening Diary
Sharing My Frugal Garden
I've always enjoyed having a garden. But I haven't had much opportunity the last few years. This year I'm changing all that.
Cyclamen
(
click on the name for a link to how to grow and information)
This is the first plant I bought this year in January. I had a $5.00 bill (I'd already spent the rest of a $20.00 at Hobby Lobby) and stopped at a nursery. I wanted something pretty and pink for Valentines Day. I was afraid it wouldn't last till Valentines. I was so happy that it did. It's a little spent in this photo I took yesterday but it was beautiful until this week! The is my new favorite. I had seen these lovely plants around Christmas time. I didn't realize that they would last so long!
This isn't really a nice shot. I realize but I wanted to share it and keep a record. Do you notice it's sitting in dirt. That is one of the negatives about living in an apartment. I can't count how many times we've asked for them to replace the grass. I've given up!
Next I want to share a plant that's on my patio right now. It's kind of a crazy story. And a crazy plant.
Poinsettia
This one was very frugal! I got it out of the dumpster. Actually it was beside the dumpster on a pile of trash. There were two. I only got one. Wish I had gotten the other one. I keep thinking it'll die. I left it outside one day when it was really hot. I have forgotten to water it and it still hangs on. It outside now in the beating sun. I think I need to move it!
Here's another shot from a different angle. If you look close you
can a marigold peeking through. And on the edge is one of the
tomato plants. This one is a Red Brandy Wine Heirloom I bought this one at the local feed store. It produces a large tomato. The Cowboy wanted some for hamburgers.
These plants are sitting in the vintage wagon that the Cowboy got off the curb. He saw it during work one evening. And thankfully it was still there when he got off! Actually there were two. He got them both!
I have two helpers. Of course Daisy is always right where I am.
We've recruited our grandson to help with some of the planting to encourage him to eat veggies!
From this angle you can see the Marigolds. Zuchinni which needs to be potted yet. In the front is a pot with carrots. The first planting did not sprout. I planted a second planting a week later with different seeds.
On the edge you can't see is one pot of lettuce that isn't doing real well.
So far I have:
3 different varieties tomato plants

4 different varieties of onions

1 Zuchini plant

2 varieties of lettuce plants

1 Romaine lettuce from the kitchen I am rooting

2 plantings of carrot seeds

1 cucumber plant

bush green bean seeds to plant

Okra seeds to plant

Corn seeds to plant
Need to get because I forgot some radish seeds and I'd like to start some seed potatoes if it's not too late. Hopefully next week I can make it to a nursery to try and get some.
So are you thinking that this is a long list for a patio garden?
I'm totally not sure about the corn or okra but we'll give it a try!
I was blessed to receive this book to review. I really got a lot of tips.
And I've gotten a lot of ideas and tips from Pinterest for container gardening. Did you know you can grow potatoes in a laundry basket?
My plan is to plant vertical. Of course I'm using containers.
I have a plan in my head how I want the patio to look.
All my pots will either be bright blue and silver. This is my inspiration piece for the color scheme . . .
I plan to paint the chair brown. Eventually I want to recover the cushions with the same blue stripe. This photo was taken last summer. The chair is another 'freebie' from the dumpster.
My cat loved this chair. We got it shortly before moving into this apartment and it was so shabby the Cowboy wanted to take it back to the dumpster. But since the cat loved it I convinced him to keep it!
Here are my ideas for the pots . . .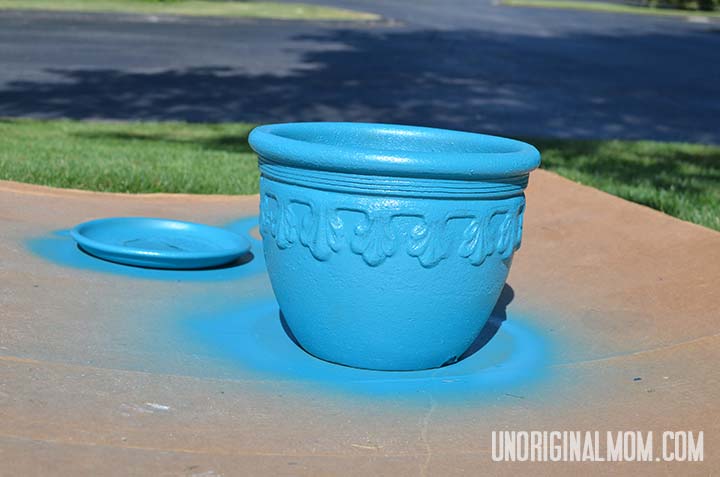 Since we decided to use the wagons there will be some red. But
right now I don't plan to add any other red. But maybe I'll surprise myself!
I have a lot of things on my wish list but I'll just share one here.
I'm looking for something like this for some of the pots.
I plan to paint it blue . . .
Source
So if you have any experience container gardening please share your tips!
Thanks for visiting. Come by soon and see how the garden is growing!
Linking with Sunlit Sunday, Happy Homemaker Monday, The Art of Homemaking, Mosaic Monday, Inspire Me Monday, Tweek It Tuesday,
Wow On Wednesday, Outdoor Wednesday, Warm Heart Wednesday, Favorite Things on Thursday,
Share Your Cup.