B is for . . .
I had to share the video. When I decided that Bacon was my B word I couldn't get the dogs
Bacon, Bacon, Bacon voice out of my head.
Here's a little of what my family does with this Beloved item! (notice another B word)
The grandsons Valentine. The caption read
'What do you do for an 11 year old boy? Bacon of course"
Cowboy decided that Bacon costs
too much in the store. And we love Bacon. So . . .
We made our own. He checked it out on the internet and got the instructions. It is started with pork
belly. Which is hard to find. We have to go to a Mexican market. But it turns out yummy.
A little time consuming. You clean and put the 'rub' salt cure on and then it sits in the fridge for 7 days.
You have to turn it every day.
But it is worth it at the end you have Bacon!
Bacon

Bacon

Bacon
I think I'll go cook some Bacon!
May your day
be filled with Bacon
Sherry
Happily joining Jenny for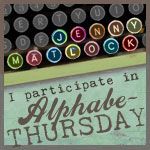 Click
Here