While I was thinking about this post. I was trying to think of anything other than

Apple

but . . .

This little quilt just kept beckoning me until I gave in. And as I thought about it I realized that it was perfect to post about. And perfect for my next
project.
So here is my letter

A

is for

A

pple Quilt. I will be quilting it this next week I hope. And,
I'll be sharing the story behind this little quilt soon. So you'll have to keep coming by to see it's story.
Join me on

The Journey

anytime . . .
Sherry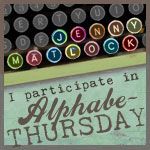 Joining Jenny Click Here