So I realize I missed last Thursday and I was planning this really cool post for the letter "U".
And then I thought I'll stop at Jenny's first. And what do I find?
The letter
V . . .
So what is a girl to do? Well just run around the house taking photo's of her favorite
Vintage items!
Love this Vintage table and isn't this shot adorable?
This is my painted lady. She has traveled with me from house to house. She has had a little repair here and there. I call her the painted lady because she really dreams of being painted blue . . . maybe someday!
Love my vintage glasses. Bought the set on ebay back in the day.
Why you wonder?
Look at the one in the center!
Cowboy kind of likes the hunting scenes
And a few Pinterest finds . . .
Dreamy
I have a watering can like this somewhere in storage!
Fun shot I think some of the spools are wooden which means VvvvvvVintage!
And last very oh that is another V word!
Creative
Love this idea.
I have passed up so many of these very Vintagy funnels
I just have to say
Duh
Love in joining Jenny for Alphabet Thursday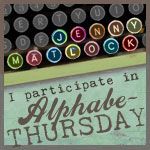 Have a Very Wonderful Day
Come by tomorrow for 5 Minute Friday!