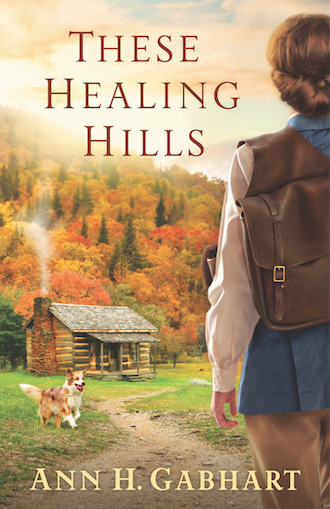 About the book (from the author's website)
What a wonderful story! Filled with true-to-life characters (including some four-footed ones) and fascinating historical details, These Healing Hills is a beautifully written, heartwarming story of life in the Appalachian Mountains at the end of the Second World War."

~ Amanda Cabot, best-selling author of A Stolen Heart
Francine Howard has her life all mapped out until the soldier she planned to marry at WWII's end writes to tell her he's in love with a woman in England. Devastated, Francine seeks a fresh start in the Appalachian Mountains, training to be a nurse midwife for the Frontier Nursing Service.
Deeply affected by the horrors he witnessed at war, Ben Locke has never thought further ahead than making it home to Kentucky. His future shrouded in as much mist as his beloved mountains, he's at a loss when it comes to envisioning what's next for his life.
When Francine's and Ben's paths intersect, it's immediately clear that they are from different worlds and value different things. But love has a way of healing old wounds . . . and revealing tantalizing new possibilities.
And I thought
I suspected that I would enjoy this book by Ann H. Gabhart.
I was introduced to her work when I was offered the opportunity to read Murder Comes In The Mail from her Hidden Springs Cozy
Mystery series. Followed by book 3 Murder is No Accident.
I enjoyed the cozy mystery series very much.
These Healing Hills is very different from the Cozy Mystery Series I am used to. Taking place in 1945 in the hills of Kentucky the reader is introduced to the Frontier Nursing Service. (click here for information).
While Francine begins an adventure she struggles with her families opinion about her calling. Her mother has disdain for the lower class folks. While Francine's grandmother supports her and her work.
A little romance is woven into the story when Francine meets Ben whose return home is shrouded in the memories he has from the war.
These Healing Hills is just a good sweet story. A book for most any audience.
I enjoyed reading it and look forward to more books by
Ann H. Gabhart.
I received a complimentary copy from Revell Books.
This review will appear on retail sites where available.
This review will appear on Good Reads.
Visit the author
The authors website provides a link to read an excerpt of the book.
There are also book club resources and discussion questions.
Available