Welcome to Alpahabet Thursday and the
really,

really,

really Big

letter

R . . .
Today I am sharing something very special . . .
When I saw this photo a few years ago I just thought Wow.
I think he is adorable. That is because I love Rabbits!
This is a really really big Cadbury bunny!
This was my very own bunny. His name was Rhett Butler.
He was a FlemCish Giant.
This is his one and only Easter Protrait. I am so glad I have it!
The perfect letter "R" for me at least.
May your day be filled with Joy
Sherry
Thanks for visiting. Joining Jenny today over at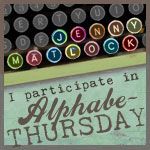 Click Here