Good Morning and Welcome to the blog. Today before I share
this weeks menu idea . . .
. . . because I am not really sure what I'll pull off this week.
I've mentioned a few times recently that we've been going to a food pantry.
I am not sure your experience or your thoughts about pantries and people that go to them.
I have been on both sides. I have served many, many hours at our local food pantry. I would like to share that experience with you.
Right now with everything that is going on many more people are needing help.
Please ask you can call 211 and they will direct you to pantries in your area.
.
Or maybe you could
help someone else by making a donation. I was reading a post just this morning about cleaning out your food pantry to re-organize. Maybe you've been doing a bit of clean up and organizing. Did you think to donate unwanted food?
As I think about all the times my Cowboy and I worked at the food pantry I could write days and days of experiences. I could write post after post filled with photo's.
Here are a few . . .
For a few years the Cowboy and I worked at a boys prison.
These photo's are bitter sweet for me. The Cowboy is healthy.
The young man in this photo is grown. He is married and has children. Working at the food pantry changed lives.
When
someone receives food it changes lives.
This is what food distribution looked like back in the day. My hair wasn't gray. God placed it on my heart to do something for the neighborhood I grew up in.
The church that I grew up in had a gym. It was the perfect location for an event to benefit the neighborhood.
Boxes and boxes of food were given to the families that came. This is only a few of the volunteers there were over 100 through the day.
We could not do this today.
We could not gather and share the Gospel
Provide food at the same time.
This is what it looks like today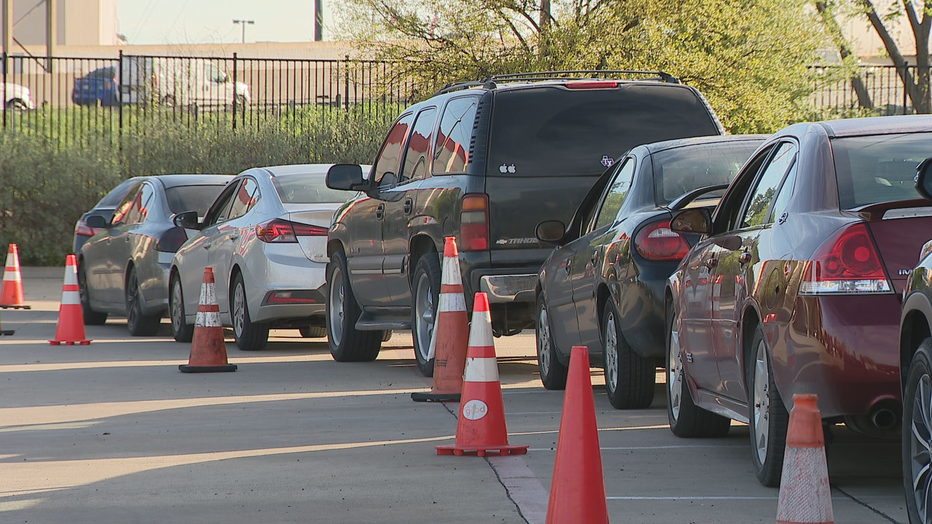 This is real. This is what it is like when I go to a local church
to get food. I am in a small town in the middle of DFW. There
are usually only 12 or so cars in front of me when I pull in.
Before I leave there are that many or more in line behind me.
It is not easy getting in line and asking for food
I have been on both sides. And so I wanted to share with you
that this is 'real'. There are people who need our help.
Back in the day I would have urged you to join us on a Friday
to pack boxes at the Food Bank.
Things have changed. It's not as easy to find a place to volunteer. But it is worthy trying. There are lots of pantries through out the city.
The first week after school closed when I went to the church there were a dozen teenagers hauling boxes and loading cars. It was a Blessing for me to see this kids serving God. It brought back some wonderful memories for me.
Maybe your like me and taking this 'down time' to clean and organize the house. And just maybe your pantry needs cleaning out. Or maybe you have a few extra bucks and you can buy
a few extra things to share.
It is easy to find a pantry to donate to.
You can call 211 and tell them you are looking for somewhere to donate food.
It's simple and means so much
And wow. This was a very long post.
Are you still interested in my plans for the Rustic Dinner plate?
In the freezer we still have . . .
We found Chuck Roast on sale a couple weeks. We still have one in the freezer
We have some Fish Sticks that we can have for lunch one day
On the pantry shelf we have . . .
Dried Beans I am thinking Pinto's again since they were so good last week. I only cooked part of a small bag in case the were a bust again.
Box of Scalloped Potato's
And so now I need to get creative and figure out how to put meals together with all that.
Monday Oven Baked Chicken Breasts
I have a box of Lipton Onion Soup mix I think it will make a good casserole to serve over Rice and with Green Beans
Tuesday Pinto Beans, Corn Bread
I'll be going to the pantry and I usually get some fresh veggies so I'll add something green and maybe Fried Potatoes. I still have some Russets
Wednesday from the Ground Beef. Hmm. I am just not coming up with anything. This is where I get stuck. I bet you can guess
what I am thinking . . .
Yep. Same 'ole. Same 'ole. Although the Meat Loaf doesn't get on the menu regularly. The Cowboy requested to have it 4 times a year. LOL. I think I have 2 more chances left.
Thursday Mexican Style Pot Roast Spanish Rice, served with leftover Beans. I'll probably go ahead and cook Potato's and Carrots with it so I'll have a freezer meal.
Friday I have some frozen Ravioli so maybe I could cook it with the Ground Beef.
I am not sure how or Breakfasts and Lunch will go this week.
The Cowboy has been getting up by 7 and eating fruit so he hasn't really been hungry till almost 11. So I'll be playing it by ear.
We will all be surprised.
Come back for Foodie Friday to find out what is
On The Rustic Dinner Plate
I hope you have a Blessed and Yummy week.
Thanks for visiting my Feature Post!
I am linking with my regular parties some of the buttons may be on the bottom of the page